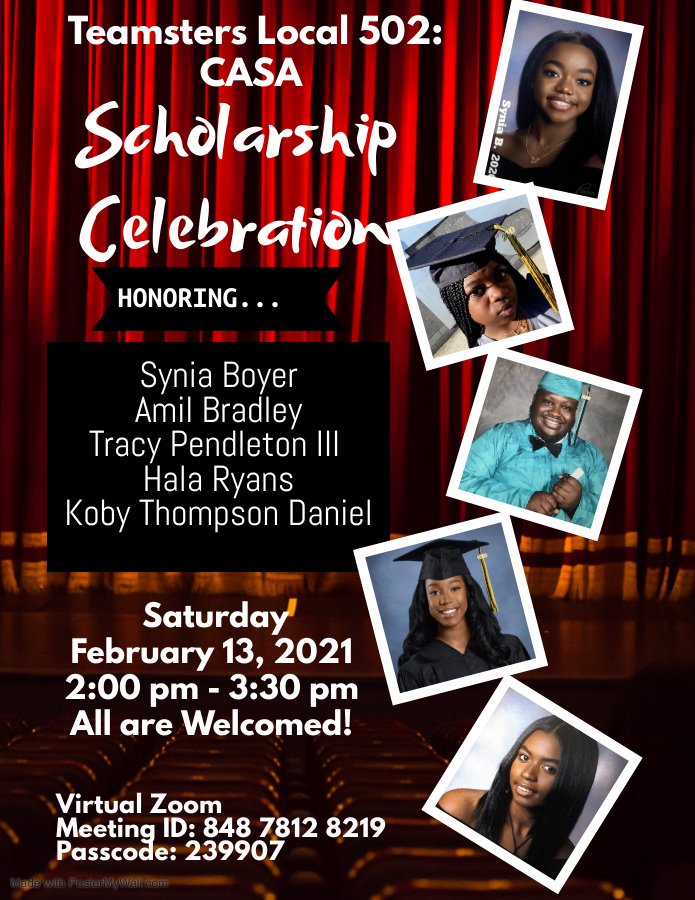 TEAMSTER JOBS FOR WORKERS EIGHTEEN YEARS AND OLDER:
CHARLES RITTER MEATPACKING COMPANY
PROCACCI BROTHERS TOMATOES
DELAWARE VALLEY STEVEDORES
CALL DON ANTICOLI AT 215-858-8507 FOR APPLICATION DETAILS
TEAMSTERS LOCAL 502: CASA Scholarship LIVE Celebration at The MET June 21, 2022 from 12:30 - 3:30 P.M.
SCHOOLMEN'S CLUB Scholarship Gathering: May 26, 2022
Here's the link to the Schoolmen's PD survey:
COLUMBUS FORUM OSIA # 1492 Awards Dinner: March 30, 2022
B'NAI BRITH Scholarship Luncheon: May 2022
PHI DELTA KAPPA Chapter 0019 Awards Dinner: October 20, 2022
Please visit our
"Shared Documents"
tab for recently uploaded items. The most recent and pressing items are in reference to:
Implications of the Child Protective Services Law:

On Tuesday, 1/24/17, we held an emergency meeting, primarily for school-based administrators, to share pertinent information with respect to Act 31 of 2014 and Act 15 of 2015. Look for the document entitled

Act31-Act15_Alert.




PROTECT YOURSELF WITH EDUCATOR LIABILITY INSURANCE:

OPTIONS AVAILABLE FROM FORREST T. JONES @ 800-821-7303:

Richard F. Jones, Jr., Agent/Broker
c/o Forrest T. Jones & Company, Inc.
PO Box 418131
Kansas City, MO 64141-8131
(or 3130 Broadway, Kansas City, MO 64111 if shipped overnight)

OR




American Association of Educators

: Professional Educators Liability Insurance (included in dues):

Any W-2 employee of an educational entity (i.e., public or private school, university, or college) is eligible for $2,000,000 professional liability insurance coverage included in AAE Professional Membership ($198 per year). Owners and board members are not eligible for this coverage.




`

25909 Pala Place, Suite 330

For all questions or to apply by phone: call 1-800-704-7799
PENNJERDEL INSURANCE CONSULTANTS, INC.
400 MIDDLETOWN BLVD STE 106,
LANGHORNE,PA 19047
ASK for Matt Seilback @ Phone: 215-750-1035 or Fax: 215-750-1385
Please know that the Shared Document Tab is not Mobile Friendly. The material on that page is only accessible using a computer.
BWEA LEADERSHIP MENTORING PROGRAM
Our Each One, Reach One! mentoring program is designed for any BWEA member who impacts the life of a child in an educational setting. Program components include one-on-one interactions established by the mentor/mentee pair and bi-monthly group sessions hosted by BWEA. There is no cost to participate in the program; however, we expect all pairs to participate in group relationship building activities (ex. Meet n' Greet, Orientation) that may require a small fee.




According to research, people who have participated in effective mentoring programs as a mentor or mentee experience greater job satisfaction, expand their professional networks, overcome obstacles to reach career goals, and learn/refine leadership, feedback, and coaching skills. Please accept this invitation to participate as a mentor or mentee, as we reaffirm our shared commitment to excellence in learning, teaching, and leading.




Below you will find the program overview and a link to sign up.

Interested in becoming a mentor? Right Click to Sign up here.




Interested in becoming a mentee? Right Click to Sign up here.
LEGAL SHIELD is a 24/7 legal protection program. Click on the flier below for further information.

Legal Shield offers legal protection 24/7. Contact Dr. Joe Conner for more information. See the flier attached.
Download File
Contract Implementation Committees
We are in the final years of implementation of our 2016-21 contract. If you have expertise and are interested in serving on one of the committees that are outlined in the contract, please send an email to Robin at casapresident502@gmail.com. The committees are as follows:
Act 82 - Principal Evaluation
Attention Retirees
Educators Alliance

Building enduring greatness through a paradoxical blend of personal humility and professional will.
Good To Great
"If a better society is to be built, one that is more just and more loving, one that provides greater creative opportunities for its people, then the most open course is to raise both the capacity to serve and the very performance as servant of existing major institutions."
John Greenleaf
Dear Retired Educator;
I am writing to you to enlist your support for one of the most worthy causes that we face as educators and citizens of this country. The state of public education in our country is alarming and needs unprecedented support from the entire community. Poor academic achievement, increased incarceration rates, extremely high poverty levels and high crime rates are just a few of the effects that result from underperforming educational systems.
John Greenleaf tells us that Servant leadership is a philosophy and set of practices that enriches the lives of individuals, builds better organizations and ultimately creates a more just and caring world. Today I am presenting an opportunity for you to lead and serve your community and the children of the School District of Philadelphia. As a former Regional Superintendent, Principal, Assistant Principal, Teacher, grandparent and the spouse of a sitting Principal in the District I am acutely aware of the challenges that Philadelphia students, parents and educators face each and every day.
Most of us do not have to be told that Federal, State and local governments are not financially capable of addressing the insurmountable academic and social problems that our schools face in the current political environment. Therefore, it is time for you and I to answer the cry for help that bellows from every school in the city. One might ask; what can I do and how can I help, I am only one person? The answer is simple, there is strength in numbers and as servant leaders our organization accepts the challenge to recruit individual leaders who are willing to make a contribution. No matter how small any time you can contribute in any capacity will go a long way toward making a difference in the lives of the children and families who rely on the Philadelphia educational systems for personal and academic structure each day.
As with any newly formed organization there are many details that need to be addressed. However, with the continued servant leadership of the School District of Philadelphia, The City of Philadelphia, Commonwealth Association of School Administrators, SRC Member Sylvia Simms, Schoolmen's Club, Cheyney University, La Salle University, Temple University and a host of others each and every challenge will, and can be resolved before the school bells ring in the fall 2016-17.
You can get involved in this very worthy project by contacting me for questions or concerns at 215-470-0097 or email me at
Theburnleygroup@gmail.com
. You may also contact the CASA offices at 215-236-7222 to leave your information. There will be a recruitment meeting at CASA headquarters on June 15th from 6-8PM.
Respectfully,
Ralph Burnley, Ed. D.
CEO – The Burnley Group
Retired Administrators Awarded Retroactive Pay

Last year, when the School District of Philadelphia subcontracted substitute service through Source 4 Teachers they added the subcontracting of administrators as well. CASA was successful in our appeal and the substitute service returned to School District Management. This adjustment resulted in a pay increase to the rate of pay in our Collective Bargaining Agreement. For those individuals that worked at the beginning of SY 15-16 until our appeal was granted, retroactive pay was owed. The matter was settled formally in June and retired employees were paid the retroactive pay on August 26, 2016.

John William Oliver
is a British political satirist, writer, producer, television host, actor, voice actor, media critic, and stand-up comedian. The hyperlink below will take you to a segment he did on NCLB and Standardized Assessments.
Caution
the video contains strong swear words that are bleeped but his language and innuendo is not intended for children. Around the 11th minute he speaks about test publishers and is especially interesting.
DID YOU KNOW ABOUT THIS REQUIREMENT TO MAINTAIN CERTIFICATION?
The Pennsylvania Inspired Leadership (PIL) program was developed by the National Institute for School Leadership for the Pennsylvania Department of Education. Region 1 is comprised of Bucks, Chester, Delaware, Montgomery counties and the City of Philadelphia. John Romanoski and Joe Kircher are the regional site coordinators responsible for scheduling, enrollment and delivering PIL courses in Region 1.
Many Philadelphia Principals and Assistant Principals have been through this program. The PIL program is required for Principals' Induction in Pennsylvania. Principal and Assistant Principals are required to complete induction if they were hired and using their administrative license after January 1, 2008. Although its target audience is Principals and Assistant Principals who have five or less years of experience, many experienced Principals are also registering for the PIL Program. Research conducted by Johns Hopkins and Old Dominion Universities have shown a direct correlation between school leaders' participation in this program and improved student achievement.
Since the PIL program is sponsored by the Pennsylvania Department of Education, there is no cost to The School District of Philadelphia or the participant.
Administrators in Philadelphia should check the Region 1 schedule for dates and locations of PIL courses Please contact either John or Joe (below) at the numbers/emails below and we will be very happy to discuss the PIL program and answer any/all of your questions.
Thank you!
John Romanoski- johnr1216@gmail.com, 484-300-5366
Joe Kircher- kirchercj615@gmail.com, 215-680-8966

Weingarten Rights

If you receive a written notice that invites you to a meeting and advises you of your right to representation, please contact CASA immediately. If in a meeting with your supervisor you are told you could be disciplined or terminated as a result of the meeting, respectfully request that your union representative be present. Then alert your supervisor that you will listen but not participate in the discussion if it continues.